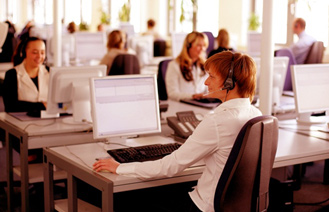 Our CATI (Computer Assisted Telephone Interviewing) center comprises 32 CATI stations which operate completely centrally due to Windows server 2003.
Aiming the highest quality with our well-trained and experienced team of CATI operators and thanks to the advantages of CATI technique, we are able to provide our clients with opportunities in terms of timing and price.
With the CATI system;
The computer program controls branching to or skipping among questions, and validates the data as it is entered.
Interview sessions are recorded and stored.
Supervisors could have full access to the CATI interviewers' system from their own PCs. While interviews are being conducted, minimum 20% of all are listened in by our supervisors.
Project-based remote access system is provided.
While the project is being conducted the questionnaire can be modified, quotas can be monitored, or intermediate frequencies can be taken and reported.
More complex questionnaire design is possible since the program controls branching and logic.
Answers are translated directly into a code by the CATI system and updated in the database.
At the end of the project data can be delivered in database formats like SPSS, Excel, and Access.
Data cleansing, analyzing, or reporting can be provided.